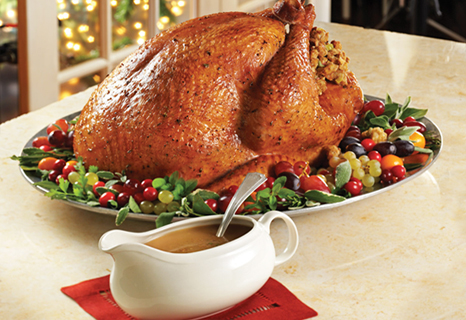 Sharing this from Campbell's Kitchen
Here's an easy, reliable way to ensure a moist and flavorful turkey...simply baste the turkey with herb-seasoned chicken stock during roasting. When the turkey is done, use a bit more stock to make a quick and savory gravy.
1 turkey (12- to 14-pounds)
1 carton (26 ounces) Swanson® Chicken Stock (about 3 1/4 cups)
3 tablespoons lemon juice
1 teaspoon dried basil leaves, crushed
1 teaspoon dried thyme leaves, crushed
1/8 teaspoon ground black pepper
1/4 cup all-purpose flour
1.
Remove the package of giblets and neck from the turkey cavity. Rinse the turkey with cold water and pat dry with a paper towel. Tie the ends of the drumsticks together.
2.
Place the turkey, breast-side up, on a rack in a shallow roasting pan. Brush the turkey with the oil. Insert a meat thermometer into the thickest part of the meat, not touching the bone.
3.
Stir the stock, lemon juice, basil, thyme and black pepper in a large bowl. Reserve
1 3/4 cups
stock mixture for the gravy. Pour the remaining stock mixture over the turkey.
4.
Roast at 325°F. for 3 hours or until the thermometer reads 165°F., basting occasionally with the pan drippings. Begin checking for doneness after 2 1/2 hours of the roasting time.
5.
Remove the turkey from the pan and keep warm. Spoon off any fat and pour off all but
1 1/2 cups
pan drippings.
6.
Stir the reserved stock mixture and the flour in a small bowl until the mixture is smooth. Add the flour mixture to the pan. Cook and stir over medium heat until the mixture boils and thickens, scraping up the browned bits from the bottom of the pan. Serve the gravy with the turkey.
*My side note here... I ALWAYS use Reynold's Oven bags (Turkey size) when I roast my turkey. It cuts down the time needed for cooking and ALWAYS comes out moist and DELICIOUS!!! Prepare as above for the seasonings, but use the cooking time according to the size of your turkey as outlined for using the cooking bag. ;D
***********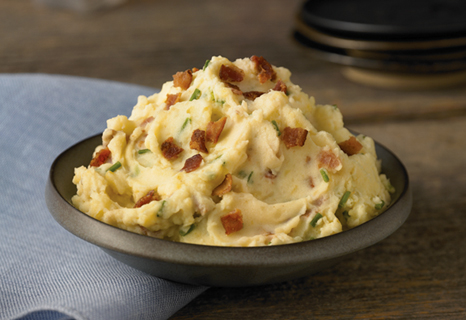 3 1/2 cups Swanson® Chicken Broth
(Regular, Natural Goodness

TM

or Certified Organic)
5 large potatoes, cut into 1-inch pieces (about 7 1/2 cups)
1/4 cup chopped fresh chives
3 slices bacon, cooked and crumbled (reserve some for garnish)
Generous dash ground black pepper
Heat the broth and potatoes in a 3-quart saucepan over medium-high heat to a boil.

Reduce the heat to medium. Cover and cook for 10 minutes or until the potatoes are tender. Drain, reserving the broth.

Mash the potatoes with 1/4 cup broth, light cream, sour cream, chives, butter, bacon and black pepper. Add the additional broth, if needed, until desired consistency. Garnish with the remaining bacon.